The quick-and-easy portable measuring instrument.
Switch on, dip in, read off !
With automatic turbidity correction for a reliable chlorophyll determination and GPS sensor for exact location recording

The bbe AlgaeTorch is a lightweight instrument for the simultaneous quantification of the chlorophyll-a content of cyanobacteria and the total chlorophyll content of microalgae in water. The measurement of chlorophyll-a can eliminate laborious sample preparation in the lab. A complete measurement needs less than 20 seconds. No sampling or preparation is necessary.

Measurement of algal concentrations via fluorescence

The bbe AlgaeTorch uses in vivo fluorescence of algae cells: the algae pigments are selectively excited by coloured LEDs and emit red fluorescence light as a natural phenomenon at high sensitivity. The intensity of the chlorophyll fluorescence is used to calculate the different algae as chlorophyll-a, here blue-green algae (cyanobacteria) and total microalgae. The calculation is carried out internally using an optimised algorithm. The results are shown immediately on the display and stored in the internal memory. An encapsulated USB port enables subsequent data transfer to a PC. The PC software is supplied free of charge.

Automatic turbidity measurement

The built-in turbidity sensor calculates the results in FTUs (formazine turbidity units). A turbidity measurement is taken with each chlorophyll measurement. The novelty here is the automatic turbidity correction during chlorophyll measurement which makes subsequent correction unnecessary, improves the accuracy and enables the evaluation of the results in the field, at site.


Innovative operating concept - fast measurement

The instrument is robust and completely sealed. It is operated through the transparent housing using capacity keys. The key actions are confirmed by a vibration signal. In this way it is possible to ensure safe operation of the instrument even in a wet environment. The instrument is deployable down to depth of 10 m (optionally 100 m with the AlgaeTorch 100). No power cable is needed for operation due to the internal rechargeable batteries.

The AlgaeTorch 100 can perform submersed chlorophyll analysis in real time down to maximum 30 m depth. Different lengths of cable extensions (10, 20 and 30 m) are available for profiling and data transfer. The built-in pressure sensor in the AlgaeTorch 100 traces the depth. All results are visualized on the screen with the connected PC using bbe++ software.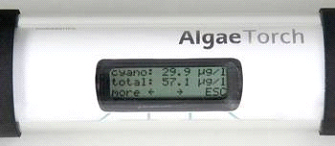 bbe AlgaeTorch display of cyanobacteria and total chlorophyll

Advantages of algae determination

• simultaneous determination of total chlorophyll-a and blue-green chlorophyll-a
• no sampling or preparation
• simple, portable operation
• measurement values display on the instrument, internal memory
• in-built pressure sensor for the 100 m version (AlgaeTorch 100)

Applications - Water Quality Monitoring

• analysis due to EU Water Framework Directive and the Bathing Water Directive
• analysis of water quality in lakes and rivers
• detection of algal blooms and blue-green algae (cyanobacteria)
• warning of possible toxins
• management of reservoirs and dams
• environmental monitoring
• limnological work
• research and education