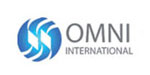 Omni International-The Homogenizer Company TM
Omni is the leading manufacturer of laboratory homogenizers and ultrasonic cell disrupter for more than 5 decades. Omni, a strictly homogenizer-focused company, sets the industry standard with a commitment to outstanding design, performance and a uniquely diversified solution based product line to offer a complete portfolio of homogenizers designed for pharmaceutical, life science, biotechnology, agricultural, microbiology and chemical research and development.

Omni offers a broad range of solutions along with its accessories, to process any sample, including high shear, ultrasonic, mortar and pestle, and bead mill homogenizers, which are user friendly, easy to clean and maintain.