Eralytics Instruments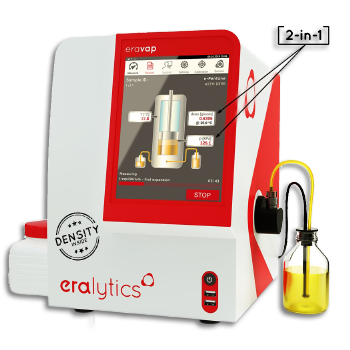 ERAVAP - VAPOR PRESSURE + DENSITY TESTING AT ITS BEST
NEW: 2-in-1
Simultaneous measurement of vapor pressure (D5191) and density (D4052) with a single, portable analyzer
- INNOVATION
Integrated ultra-light U-tube density meter module (patent pending), fully ASTM D4052 and ISO 12185 compliant.
- PERFORMANCE
Unmatched speed, versatility and precision for ASTM D4814 and EN 228 fuel specification testing.
- TRUE PORTABILITY
Portable, rugged and light weight: the perfect solution for terminals and mobile laboratories and density (D4052) with a single, portable analyzer.
ERAFLASH - One Flashpoint Tester for All Applications
Fresh & used oils including fuel dilution measurement Diesel & jet fuel, FAME (biodiesel), asphalt & bitumen Flavors & fragrances, paints & varnishes, solid & liquid waste Mobile laboratories, military applications, flash/no flash tests all this with a single analyzer in full compliance with the safest flashpoint standards ASTM D6450 & D7094, with proven correlation to ASTM D93 & EN ISO 2719
. Maximum Safety
. Minimum Maintenance
. Reliable Precision
. High-tech for High Performance
. High Speed
. Unmatched Range

- Compact Stand-Alone Analyzer
- Direct LIMS Communication
- True Portability
- Large Results Memory Service and Remote Control over the Internet
ERASPEC - SPECTRAL FUEL ANALYSIS IN SECONDS
Gasoline Analysis : oxygenates, aromatics, OCTANE boosters, RON, MON, AKI, RVPE, VLI, density and distillation properties.
Diesel Fuel Analysis : FAME, FAEE, distinction between FAME and vegetable oil, aromatics, PNA, CETANE number and index.
Jet Fuel Analysis : aromatics, PNA, FAME, freezing point, flash point.
All this in seconds with a portable analyzer in full compliance with the latest standards such as ASTM D5845, D6277, D7806, EN 238, EN 14078
. Detailed FTIR Analysis
. Huge Expandable Database
. Compliant Biodiesel Testing
. Autosampler for Unattended Analysis
. Optimized Design for Unmatched Precision

- Compact Stand-Alone Analyzer
- Direct LIMS Communication
- True Portability
- Large Results Memory Service and Remote Control over the Internet
ERASPEC OIL - PORTABLE FTIR OIL ANALYSIS IN SECONDS
Degradation Monitoring : oxidation, nitration, sulfation, ester break¬down, depletion of phosphate antiwear additives and antioxidants
Contamination Analysis : soot, water, glycol, gasoline, diesel fuel
Property Calculation : TAN, TBN, viscosity class, change in viscosity all this in seconds with a portable analyzer in full compliance with the latest international standards
. High-Speed Results
. Stand-Alone Portability
. Lab FTIR vs. ERASPEC OIL
. Field Design for Lab Performance
. Reliable Precision

- Compact Stand-Alone Analyzer
- Direct LIMS Communication
- True Portability
- Large Results Memory Service and Remote Control over the Internet

ERACHECK - CFC-FREE OIL -IN-WATER TESTSING
Sub-ppm concentrations of Total Petroleum Hydrocarbons (TPH) and Total Oil and Grease (TOG) in water and soil. All measurements done with cutting-edge QCL-IR technology based on highly precise Quantum Cascade Laser science and in full compliance with the latest ASTM D7678 standard. The ERACHECK is portable and rugged and therefore ideally suited for the use in laboratories as well as in the field.
. CFC-Free Extraction
. Cutting-Edge QCL Technology
. Ease-of-Use in the Field
. Autosampler for Unattended Analysis
. Unique Measurement Precision

- Compact Stand-Alone Analyzer
- Direct LIMS Communication
- True Portability
- Large Results Memory Service and Remote Control over the Internet

REQUEST A QUOTE