Tissue Processors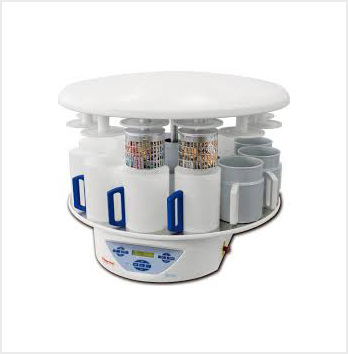 STP 120
The Thermo Scientific STP120 spin tissue processor is designed to process biological specimens from chemical fixation to wax infiltration.
Features
:
• Basket capacity of 120 cassettes. Additional basket increases capacity to 240 cassettes.
• Reagent carry over reduced through centrifugal spinning of basket above reagent vessel.
• Spiral agitation to reduce infiltration time
• Capacity to store up to 10 programs in memory
• Programmable immersion time in each station
• Integrated fume extraction system with active charcoal system.
• Programs can be started immediately or in delayed mode, without time limit.
• LCD display shows all parameters throughout the process
• Battery back up ensures sample safety.
• Visual and acoustic alarms to indicate program deviations.
Configuration
: Available as units with 2 wax baths and 1 processing basket (or) 3 wax baths and 2 processing baskets.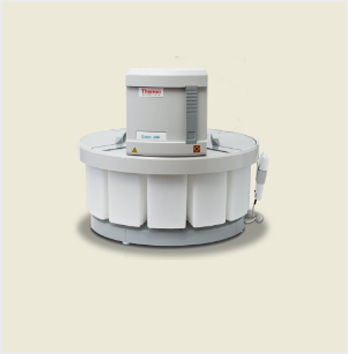 Citadel 2000
Thermo Scientific Citadel 2000 is a compact carousal tissue processor that ensures processing quality, ease of operation and excellent chemical resistance.
Features
:
• Basket capacity of 70 cassettes with random baskets. Special organizer baskets hold up to 110 cassettes.
• Integral fume hood to protect users from chemical vapours
• Optional vacuum unit to facilitate rapid infiltration of specimens.
• 10 reagent vessels with 2 wax baths
• Capacity to store up to 4 programs in memory.
• Intuitive touch key pad
• Immediate and delayed start time with up to 9 days delay
• Excellent chemical resistance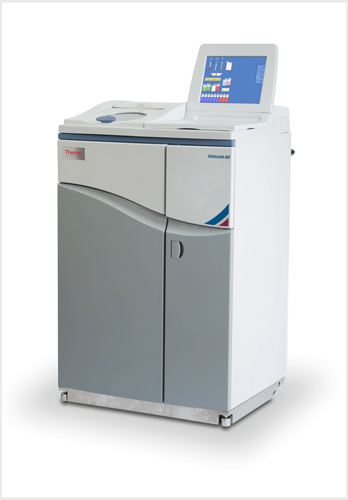 Excelsior AS
Thermo Scientific Excelsior AS tissue processor is the latest, enclosed fully automated tissue processor. With its unique reagent management system and safety features, it efficiently processes specimens while ensuring significant reagent cost savings.
Features
-
• Basket can hold up to 300 cassettes
• Automatic in process reagent rotation
• High clarity touch screen display with intuitive software
• Automatic first alcohol quality monitoring
• Three distinct levels in chamber to shorten processing times.
• 8 customized programs and 8 flush options
• USB connectivity
Performance
• Web based instrument monitoring system -NETMON II - for rapid diagnosis
• Reagent quality of first alcohol measured using specific gravity. Operator is alerted when reagents need to be changed.
• Reagent pre heating option allows for more consistent and rapid processing
• Glass lid for viewing processing
Safety features
• Built in down draft ventilation to minimize operator exposure to chemical fumes.
• battery back up of up to 4 hours
• Remote alarms to alert user of any issue
• Active charcoal and formaldehyde filters for maximum user protection
REQUEST A QUOTE