A research grade Fluorescence Spectrophotometer with high sensitivity, ultra-high scanning speed having capability of multi-mode analysis. F-7000 is a high-end model having provision for attachment of all kinds of accessories including Integrating Sphere for quantum yield measurement and Miroplate Reader.

Features :

Automatic pre-scan function : This function ensures automatic and very fast selection of optimum excitation and emission wavelengths for unknown samples. It saves time and increases productivity.

Very-very high scanning speed : Scanning speed of 60000 nm/min useful for rapidly degrading samples.

Highly accurate wavelength setting : Wavelength accuracy of 1 nm for accurate setting of desired wavelength.

Long dynamic range : Continuously variable voltage photomultiplier with a sixth order dynamic range important for the analysis of unknown samples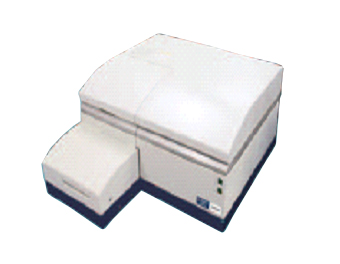 Multi-mode analysis : Analysis in the modes of fluorescence, luminescence and phosphorescence. Measurement of phosphorescence lifetime down to 1 ms without any additional accessory. Anisotropy measurement by using automatic polarizer. Quantum yield measurement of liquid and powder samples. Samples kept in 96 well micro plate can also be analysed using Micro Plate Reader.


Specifications :


Applications : F-7000 can be used to analyse samples in the fields of material, environmental, chemical and biological applications. Samples could be in the form of solid or liquid.

Following are few examples of its applications-
• Measurement of fluorescent spectra of CD/Se quantum dots
• Measurement of DNA with PicoGreen
• Measurement of green fluorescent protein (GFP)
• Measurement of chlorophyll a in river water
• 3-D fluorescence spectrum of Pheophytin a
• Analysis of luminescent characteristic of trisaluminum complex powder (organic EL material)
• Phosphorescence spectrum and lifetime measurements of Eu(tta)3 (TOPO)2 complex, a rare earth material
• Measurement of intermolecular activities such as FRET, BRET and Ca2+ concentration in cells
• Phosphorescence Excitation Spectrum of Benzophenone at Liquid N2 Temperature
• Measurement of relative quantum yield of fluorescent reagents.
• Analysis of activity of enzyme (peroxidase)