The Gas Chromatographers Choice for Separations

Targeted Solutions for Specific Markets
A series of software customization tools allow users to develop unique calculation modules, that fully integrate with CompassCDS. A large number of
standard plug-ins are available that allow special reporting and other post analysis functions. Some examples include:

Simulated Distillation
Provides automated boiling point distributions for a full range of petroleum products for applications that comply with ASTM, IP, DIN and ISO standard
test methods.

Detailed Hydrocarbon Analysis
Reports in an automated way the physical properties of gasoline and similar products based on individual components for applications that comply
with Bruker developed methods and ASTM, IP and standard test methods.

CompassCDS PeakSynch
Provides rapid visual and quantitative comparison of complex chromatograms and is widely used in the flavor and fragrance industry.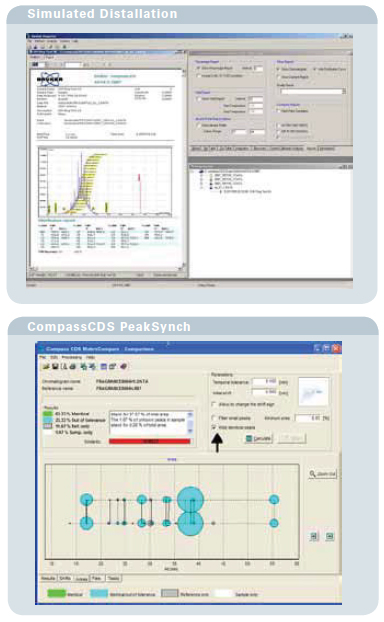 Benefits of the SCION-GC

• Multi-language User Interface
• Full EFC Capability
• IntelliUpdate
• System Suitability Determination
• CompassCDS Softwa
• 600 Hz Data Sampling Rate On All Detectors
• Inert GC Sample Path
• Constant Linear Velocity Mode
• Fast Cycle Time

Regardless of your sample throughput requirements, Scion can provide an automated solution to meet your needs. Four samplers are available, the CP-8410, CP-8400, the SHS-40 and the PAL Combi-xt. Each is tailored to meet a differing need and workload.


CP-8400

• High throughput
• 100 x 2ml sample capacity
• Dual/Duplicate Injection
• SPME

CP-8410

• Flexibility
• Accommodates 2, 5, 10 ml vials
• Low cost/high performance
• Ease of use

SHS-40

• Fully automated
• Easily Integrated
• Low maintenance
• Sample Loop or Press and Inject configuration

PAL Combi-xt

• High throughput
• Liquid handling capability
• SPME
• ITEX

REQUEST A QUOTE